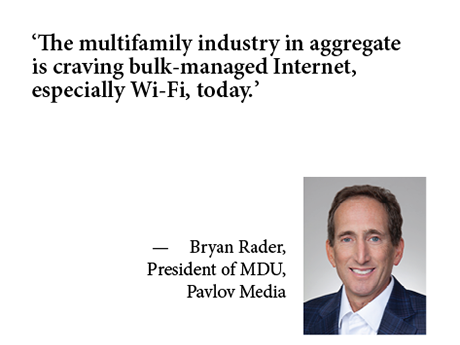 Multifamily Carriers Streamline Connectivity with Bulk Internet Access
The multi-family Internet access landscape is changing rapidly, due to changing resident expectations. More than just a utility, reliable Wi-Fi and Ethernet connections are essential to attracting and retaining residents, while reducing operating costs. Growing connectivity needs, work-from-home (WFH) culture, and growing interest in smart home applications are all driving residents' internet needs.
The centrality of Internet access for multi-family residents was inevitable in the long term, according to Bryan Rader, president of Multi-Dwelling Units (MDU) at Pavlov Media. COVID-related lockdowns have accelerated an already burgeoning trend: mass-managed internet designed to improve connections and simplify growing demand.
Bulk managed connectivity offers a variety of solutions for on-site managers, residents and owners, as well as cost savings in unexpected areas. This approach provides building-wide Internet connections through a single provider, rather than requiring residents to sign up individually with one of many Internet providers. The Bulk Internet Management Company can also install and manage the building's connection infrastructure.
The simplicity of mass-managed Internet (which started as mass-managed Wi-Fi in student residences) is becoming increasingly practical for multi-family buildings. Over the past four or five years, the traditional multi-family industry has started to follow the same pattern that became the norm in student accommodation around 15 years ago. "The multi-family industry as a whole needs mass-managed Internet, especially Wi-Fi, today," says Rader.
Residents demand a powerful and adaptable Internet
Quality internet is so essential to residents that it is difficult to consider it a commodity in some respects; it became non-negotiable. The option of having Wi-Fi and Ethernet pre-installed and ready to be activated in an apartment as soon as a resident moves in can differentiate a carrier from its competitors.
Network configuration is critical. "You can't expect to offer the same solutions for multi-family homes as you do for single-family homes. Multifamily requires a very different network capable of supporting a larger number of users in a single, dense geographic space. You cannot have, for example, 400 discrete Wi-Fi networks. These networks are all competing for airspace, and constant competition against each other will cause everyone's quality of service to drop dramatically.
Slow internet speed, other devices in the same area, the layout of buildings, and overlapping channels between networks can all contribute to less than ideal Wi-Fi. Rader outlines the benefits of managed Wi-Fi in the battle to secure property-wide guest access. "This approach takes customer equipment (their Wi-Fi and routing devices) out of the equation. They no longer need an additional device; it is already integrated into the unit. When a resident moves in, their personal technology can be authenticated and immediately connect to the network. No additional routers make management easier and reduce interference throughout the property.
Having a single entity install Ethernet and routers throughout the building means a simplified approach to Wi-Fi and cabling. More efficient placement of routers and cables can mean stronger, better-looking coverage, even in buildings constructed long before the advent of today's Internet needs.
An added benefit of this mass approach to Wi-Fi is the ubiquity of these managed networks. Residents who expect to be online while using property amenities can move beyond their units and into shared spaces. "Common area amenities have exploded in recent years, and mass managed Wi-Fi covers all amenity areas," says Rader.
Not only can residents use their devices on the networks while at the building's pool or dog park, they can also remotely control connected devices in their units – print documents to printers without wire, check security devices and more. Additionally, Rader explains that with mass-managed Wi-Fi, residents can wander the grounds of their amenity-rich homes without ever losing their network connection.
Managed Wi-Fi is even capable of supporting Wi-Fi calling to improve call quality on cell phones, reducing the risk of poor cell phone service for residents (many of whom may check cell phone service of a property before accepting a lease).
Call for Operators – Cost Savings, Monitoring
While a fast and reliable internet is not negotiable to attract residents, it also offers operators ways to run their businesses more efficiently in terms of the "back of house". Smart home technology and property management applications take advantage of the "always on" aspects of a building's Wi-Fi.
Rader adds that "one of the benefits of managed Wi-Fi is that it gives you the right path to deliver all the smart home apps residents expect (including digital door locks, thermostats, room controls, etc.) temperature and remote-controlled blinds) plus all those useful for both residents and management (humidity sensors in apartments and security devices). These are all conveniently operated on a managed and stable Wi-Fi network.
Managers can monitor vacant units via Wi-Fi connected sensors. HVAC or leak detection sensors can continue to operate, even if the unit is unoccupied, since Wi-Fi is not tied to the internet provider of the resident, but rather to a constant service provided throughout the building. These alerts can save operators time and money if an unoccupied unit needs servicing.
Fiber connection
"Fiber is the long-term preferred infrastructure," says Rader. "It enables symmetrical speeds and an optimal experience for streaming, gaming, studying and working. Leveraging managed Wi-Fi with fiber is the perfect application. What's great about managed Wi-Fi, is that it broadcasts the signal throughout the unit and throughout the community.The fiber allows a direct connection to the wall plate, allowing residents who need extremely fast internet speeds to have additional capacity. streamers, gamers, those who use intensive online programs and many others appreciate this flexibility.
Network support
Rader points out that commitment to ownership and end-user support defines the success of businesses in this space. "You cannot expect the best results by relying solely on the network itself. The network is essential, but no one can reasonably expect the network to be the only way to support a customer today. These are not "set it and forget it" systems. They require onsite care and 24/7 technical support. Maintenance and contact with the supplier are critical elements of performance.
Both sides of the equation are important. "Building a great network is key, but so is supporting that network with the right people," Rader concludes. Keeping a close eye on traffic, communicating with staff, and acting proactively is key to ensuring today's always-online residents enjoy an uninterrupted connection.
Pavlov media is a content partner of REBusinessOnline. For more information about Pavlov Media, Click here.