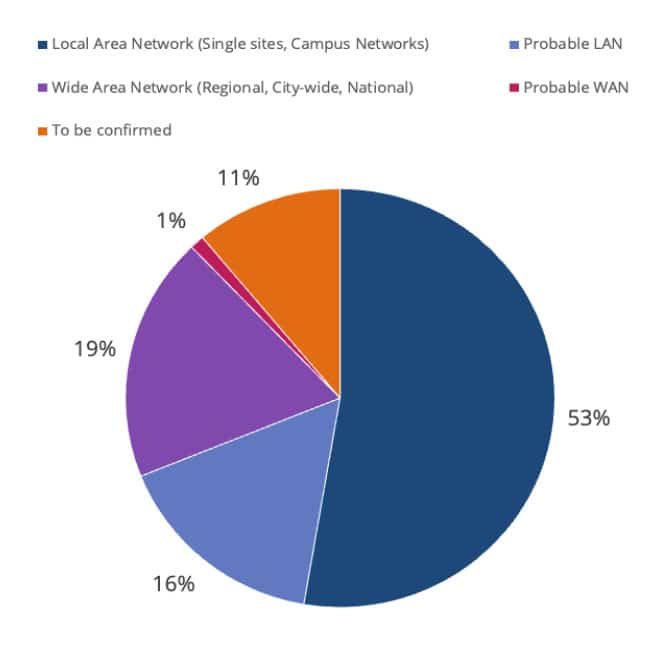 Mobile wireless private networks are increasingly based on 5G
While LTE is still used for most private wireless networks, the private wireless share of 5G is growing rapidly, according to a new report from the Global Mobile Suppliers Association (GSA).
GSA follows at least 370 companies around the world that have invested or are investing in private mobile networks. Just under two-thirds (64%) of the private mobile networks listed use LTE, up from 81% in October 2020. Currently, 5G is being deployed or is planned for deployment in 44% of private mobile networks, including 8% that are both LTE and 5G.
The GSA defines private mobile wireless networks as including 3GPP / LT-5G private mobile networks intended for the exclusive use of private entities such as businesses, industries or governments, which are not offered to the general public and that use the spectrum defined in 3GPP.
While some entities may take responsibility for building their private mobile networks, others look to mobile network operators, system integrators and equipment / technology providers, GSM notes in a Press release. The organization, which calls itself "the voice of the global mobile ecosystem," has identified 68 public network operators that provide and are involved in private mobile networks based on LTE or 5G.
Major US mobile network operators are among those involved in private wireless networks, including AT&T and Verizon.
Findings of the report
While some private mobile networks offer local area network (LAN) coverage for a single building or campus, others offer wider wide area network (WAN) coverage. According to a abstract of the GSA report, titled "State of the Private Mobile Networks Market Update (August 2021)", 53% of the private mobile networks tracked by the GSA are local networks and 19% are wide area networks.
The LAN / WAN status of some private mobile networks could not be confirmed, but the GSA estimates that an additional 16% are LANs and an additional 1% are WANs.
Manufacturers are the first to adopt private mobile local networks, the GSA study suggests. Researchers identified 79 manufacturers with appropriate licenses or involved in known private mobile local area network pilots or deployments. Other categories involved in private mobile local networks include mining and ports.
According to the GSA, utilities, police / security / public safety / defense, communications / IT and rail are the largest WAN users of private mobile networks.
Some companies and other entities deploying or planning to deploy private mobile networks plan to use unlicensed spectrum while others have obtained spectrum licenses. Some stakeholders consider the CBRS band to be particularly well suited to support private mobile networks, as it is medium band spectrum and is available under license and without license.
While wireless network operators have won the majority of CBRS band licenses, others winners included Deere and Company, Texas A&M University, Virginia Tech Foundation, and others that may use spectrum for private wireless networks.