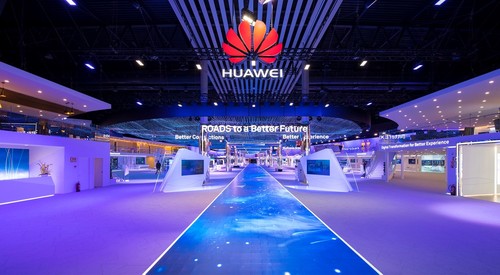 High-level MIMO takes center stage in wireless networks
The Wireless Foundation Summit, held at Mobile World Congress, highlighted how mobile network operators (MNOs) can profitably maximize the value of their existing networks and spectrum assets.
Moderated by Peter Jarich, Head of GSMA Intelligence, the Wireless Foundation Summit welcomed contributions from MNOs from Beeline (Russia), Celcom (Malaysia), China Telecom and Globe Telecom (Philippines).
An update on the progress of 5G 3GPP standards was provided by Adrian Scrase, CTO of ETSI, while high-level MIMO innovation surrounding both LTE and 5G was presented by Huawei.
Bocar Ba, Commissioner of the United Nations Commission on Broadband, a public-private partnership promoting digital inclusion, kicked off the series of presentations. He was keen to place the summit in the context of broader socio-economic concerns. What we are discussing today has a direct correlation with the speed of advancement of the digital economy, ?? he said. Broadband connections must be reliable, universal and excellent.
Topics at the summit focused on enabling new services for verticals and consumers, as well as improving end-user broadband experiences through higher capacity networks. An additional challenge, noted by all the speakers, was the huge leaps in the use of data as more people ?? because of the containment measures induced by the pandemic ?? work and study at home.
CS Yap, director of the network at Celcom, has spoken several times about the "new traffic standard". Since the start of the pandemic in early 2020, Malaysia's MNO has seen its data consumption increase by 70%, with demand shifting sharply from commercial to residential areas.
Building a strong and fundamental wireless network layer, involving both 4G and 5G, was naturally seen as the key to ensuring an improved user experience and expanding coverage. Intelligent use of spectrum in low band, mid band and high band ?? on the back of ?? smart ?? Multiple input, multiple output (MIMO) and massive MIMO antenna configurations ?? was a recurring (and welcome) theme at the summit. Making the most of finished and existing spectrum assets was seen as an imperative, as was leveraging LTE to complement 5G.
Ed Gubbins, senior analyst at Global Data, a research firm, pointed out that massive MIMO and beamforming are important in maximizing the efficiency of the 5G spectrum in the 5G era. The 8T8R, along with massive MIMO, he added, could also be usefully deployed in the mid-band FDD spectrum (below 3 GHz) to achieve higher capacity. The 4T4R low band, Gubbins said, was ideal for wide and universal coverage.
MIMO innovation roadmap
ETSI's Scrase highlighted recent enhancements to MIMO standards, including 3GPP version 16, which introduced an enhanced Type II codebook with DFT-based compression and support for multi-TRP transmission.
?? From a standards perspective, MIMO is nothing new, ?? Scrase said. What is new is that we are actually starting to see MIMO deployments and lessons are being learned. We understand some of the complexities of using MIMO, both above and below 6 GHz, especially when user equipment can move at high speeds and need very low latency within the network. MIMO system. The lessons learned, as Scrase says, will feed into versions 17 and 18.
A schedule for version 18 will be set by December 2021. 3GPP marks version 18 and beyond as 5G-Advanced. ?? It's a stepping stone halfway between where we are now with 5G and where we will probably be in ten years ?? time with 6G, ?? Scrase explained.
Qi Bi, chief expert at China Telecom, enthusiastically welcomed the MIMO innovation roadmap. He saw it as essential for alleviating network capacity bottlenecks and serving various industries with faster data rates. He named steel, mining and ports as key target markets for China Telecom.
?? Due to the importance of FDD systems in 5G vertical applications, the availability and performance of FDD handsets is highly anticipated, ?? Qi said. ?? Using version 15 as a benchmark, better data rates can be achieved in time with later versions using massive FDD MIMO technology. Using the massive 32T32R MIMO, it is estimated that data rates can improve by around 50% with Release 16 handsets, and almost double the data rate when using Release 18 handsets. ??
High Order Ground MIMO
Gavin Wu, Senior Advisor for Engineering and Access Management at Globe Telecom, highlighted the deployment of Huawei's SingleCell + low-band 4T4R solution, which is the first of its kind in the world.
?? We have seen a huge increase in LTE data traffic since the pandemic, so it is more important than ever to have deeper indoor penetration coverage and provide a better user experience for home subscribers, ?? Wu explained.
Using intelligent algorithms and machine learning, the SingleCell + 4T4R solution can move LTE clients, camping on a low-band 700 MHz spectrum near the cell, to a mid-band spectrum. The average user throughput gain at the edge of the 700 MHz LTE cell increased by over 150% during field testing.
In Malaysia, Celcom has successfully tested the Smart 8T8R and is now embarking on what it calls "commercial mass deployment". Yap, speaking at the summit, said Celcom had already deployed an FDD 4T4R solution to 58% of its sites nationwide and 88% of sites in the capital Kuala Lumper, but said it was still insufficient to respond effectively to the increased demand for data. ?? We needed a new higher capacity solution due to the new demand for normal traffic, ?? he said.
Reducing costs was another key consideration. By using one radio for 8T8R, as opposed to two 4T4R radios, Celcom plans to cut power consumption by 16% and cut tower rental costs in half (while increasing capacity by almost 1.8 times ). Huawei's software-defined antenna, which is part of the Smart 8T8R solution, enables easy migration from 4G to 5G.
Mohamed Fouad Madkour, Huawei vice president for global marketing and wireless solutions, said high-level MIMO is at the center of 5G enrichment. In addition, thanks to innovation and evolving standards, further performance improvements are being made. He added a note of caution, however, advocating that a ?? multi-layered ?? was the best way to provide the base layer of robust wireless networking that the industry was looking for.
?? The key is how operators get the right equipment that really harnesses all of the innovations of the standard, ?? said Madkour. The starting point, especially in low band, is 4T4R, which is the ubiquitous cover layer. You then switch to the massive 8T8R or MIMO in the mid band, which is the universal capacitance layer. When it comes to the higher bands, massive MIMO is really the only choice because it combines a lot of capacity with a great customer experience. We call it the extreme experience layer. ??
This content is sponsored by Huawei.
Huawei Technologies Co. Ltd