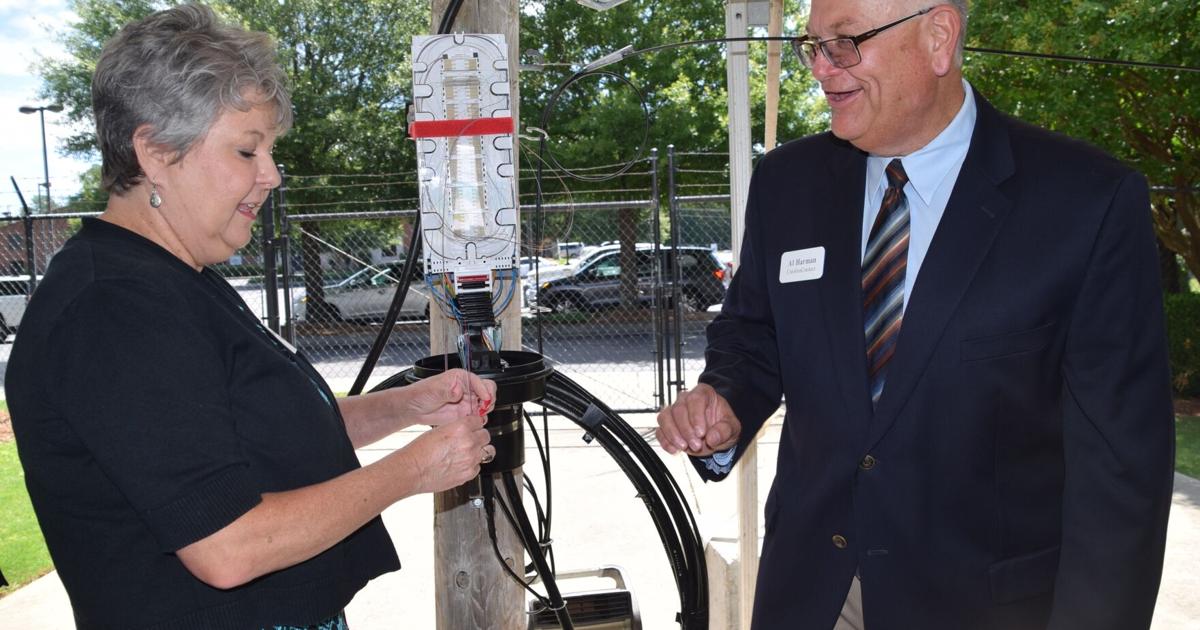 Aiken Electric Cooperative Celebrates Broadband Success with New Broadband Internet Service | Local News
Aiken Electric Cooperative's efforts to establish a broadband network in its largely rural service territory have reached an important milestone.
Although the $100 million project is expected to last three years, enough work has been done to begin providing high-speed internet access to members of the Aiken Electric Cooperative.
Ashley West, who lives outside Wagener, started traveling faster on the information superhighway Monday at her home.
"I feel like it's a game-changer," said West, who attended Aiken Electric Cooperative's broadband success celebration on Wednesday.
The event took place in the community hall of Aiken Electric's headquarters in Aiken.
A third-grade teacher at Forts Pond Elementary School in Lexington County, West, experienced frustration trying to cope with the slow internet service she had and the educational challenges created by the novel coronavirus pandemic.
Broadband construction planned for rural areas of Aiken County
When conducting online classes, "it was difficult to download stuff for students and make Zoom calls," West said.
Additionally, buffering was an issue when she and her husband, Trevor, used streaming services to watch TV shows and movies.
Making calls on a cell phone can also be tricky.
The high-speed Internet service "is going to make things much easier in my work and in my daily life," West said.
Aiken Electric announced in February that it was partnering with CarolinaConnect, a Lexington-based company, to build, operate and maintain broadband infrastructure in unserved and underserved communities.
When completed, there will be 350 miles of 288-strand fiber optic cable in the network backbone.
Already about 300 miles of cable has been installed, and "we have somewhere between 40 and 50 miles of distribution fiber in the air, so we've started connecting customers," said Gary Stooksbury, CEO of Aiken Electric. Cooperative. "What's exciting is that we've gone and we're racing now."
Keyatta Priester to be Keynote Speaker at Aiken Tech Launch
One of the areas with first high-speed Internet access is in eastern Aiken County, around Aiken Electric Cooperative's Tri-City substation, where Wagener and Perry are located.
The other is near Johnston Substation in Edgefield County. This area includes Fruit Hill Road, SC Highway 191 and the community of Good Hope.
"This is a symbolic and monumental day for eastern Aiken County. This is the rural internet wilderness of the county," said SC Rep. Bill Taylor, R-Aiken, who was among the guests of the Broadband Success Celebration "I applaud the people of Aiken Electric Cooperative for this truly bold and courageous initiative."
Other attendees included SC Rep Melissa Oremus, R-Aiken, representatives from CarolinaConnect and Will Williams, President and CEO of the Aiken, Edgefield, McCormick and Saluda Counties Economic Development Partnership.
In addition to Aiken and Edgefield counties, Barnwell, Calhoun, Greenwood, Lexington, McCormick, Orangeburg and Saluda counties are within Aiken Electric Cooperative's service territory.
Providing high-speed Internet service to its members is Aiken Electric Cooperative's top priority. Its availability to non-members is determined on a "case by case basis", Stooksbury told the Aiken Standard earlier this year.
Aiken Electric Cooperative has established a for-profit fiber subsidiary for its new broadband business.
Strom Thurmond Jr., who previously served as South Carolina's Second Circuit Judicial Attorney, is the branch president.
He is also a director of the Aiken electric cooperative.
At the broadband success celebration, he said internet speeds of up to 1 gigabit per second would be available on Aiken Electric Cooperative's broadband network.
"For many of our members, this is going to be transformational," Thurmond added. "Kids will now be able to do their homework online or play video games while their parents live-stream a TV show or research the internet for tomorrow's meeting. They will be able to do all of these things at the same time without interruption.
Broadband internet service will be available in areas around Wagener, Salley, Perry in June
Thurmond asked members of the Aiken Electric Cooperative who are waiting for high-speed internet access to be patient.
"This construction is going to take time," he said. "It's a colossal undertaking."
Aiken Electric Cooperative has received a grant for the project and is hoping for additional financial support.
Up for grabs in Palmetto State will soon be COVID-19 relief funds from the American Rescue Plan Act and money from the Savannah River Site Plutonium Storage Colony.
"No one can predict how much money will be spent (by elected officials on broadband infrastructure), but it's a top priority," Taylor said. "That could be up to $300-500 million."