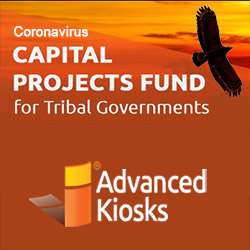 Advanced Kiosks announces the expiration of the Tribal Government Internet Access Grant which can be used for self-service kiosks and public access kiosks
"We want to make sure Native American tribes are aware of this huge benefit before it's too late," said Advanced Kiosks President Howard Horn. "Advanced Kiosks products are ideal for public Wi-Fi devices that tribe members can use to access the Internet."

CONCORD, NH (PRWEB)
May 13, 2022
Advanced Kiosks, a New Hampshire-based company specializing in self-service kiosks, today announced that time is running out for Native American tribal governments to apply for the U.S. Treasury's coronavirus grant program. This digital connectivity grant can be used for hardware and software for tribal members in remote areas to access services through the internet. The deadline to apply for this grant is June 1, 2022.
This expiring United States Department of Treasury grant is an opportunity for any federally recognized tribe to receive $167,000 to purchase hardware and software to provide Internet access for Native American tribes and their members. .
"We want to make sure Native American tribes are aware of this huge benefit before it's too late," said Advanced Kiosks President Howard Horn. "Advanced Kiosks products are ideal for public Wi-Fi devices that tribe members can use to access the Internet. This Treasury Department grant initiative aims to enable capital investments designed to address inequities in broadband access to essential services. Broadband access throughout federal tribal lands would facilitate access to many services that are currently unavailable.
The grant is for projects defined by the Treasury Department as digital connectivity technology projects, and funds may be directed towards the purchase or installation of appliances and equipment such as laptops, tablets, desktop personal computers and public Wi-Fi equipment to facilitate high-speed Internet access for communities where affordability is a barrier to broadband adoption and use.
About Advanced Kiosks:

Advanced Kiosks has a GSA with the federal government as a secure federal government technology partner. If you would like more information about the grant application process or about Advanced Kiosks and the GSA, visit https://www.advancedkiosks.com or call (603) 865-1000.
Advanced Kiosks is an engineering company specialized for 20 years in the development of self-service solutions for many industries. Our kiosk machines are all made in the USA and are backed by a 3 year warranty. Our Zamok® kiosk management software is the most secure and provides the ability to get things done.

Share the article on social networks or by e-mail: